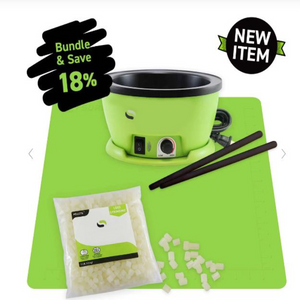 Glue Skillet Dipping Bundle
Regular price
$86.00
Sale price
$104.88
Get everything you need to tackle any craft or household project that would be made easier by directly dipping elements into melted glue. This convenient and complete kit includes: 1 Adjustable Temperature Glue Skillet, 2 Teflon Stir Sticks, 1 - 5lb. Box of Diamond Skillet Glue Pellets, and 1 Green 19" x 19" Glue Pad. The glue skillet speeds up projects that might otherwise be time-consuming — simply dip components into the inch-deep pool of glue before putting them in place. Great for group crafting, home décor, wreaths, and other floral work.
• STIR STICKS! - Included are 2 Teflon stir sticks. At 8" long, these stir sticks are perfect for assisting with placing craft materials onto projects, placing glue onto a project, or crafting material. It is ideal for stirring the melted glue in a glue skillet and can also be used for non-skillet projects like rolling paper for making paper flowers.

• GREAT FOR FLORAL PROJECTS - This is an ideal tool for use with floral supplies as they can be dipped into the melted skillet glue and placed wherever without the cumbersome task of using a glue gun to glue each piece of material.

• BUNDLE & SAVE - Kit Includes: 1 Green Adjustable Temperature Glue Skillet, 2 Black Teflon Stir Sticks, 1-5lb. Box of Glue Skillet Pellets, and 1 Green 19" x 19" Glue Pad with embossed rulers on the bottom and right side.

• SKILLET FEATURES - Lighted on/off switch so you always know whether it's on or off, an adjustable temperature dial that has a heat range from 220°F to 400°F, the heating area is 1" deep for melted glue which provides ample space for dipping items into melted glue pellets.

• SKILLET GLUE PELLETS - Formulated to string-less, skillet glue provides a strong and reliable bond for many types of materials. 1 - 5 lb. Box will approximately finish 5 - 10 floral projects.

• LARGE SILICONE GLUE PAD - Keep your work surface clean with this 100% silicone mat, dried glue peels right off and paints easily wash off. The mat is 19" x 19" in size, and features embossed rulers along the bottom and right side for getting accurate measurements on the fly. At 2 millimeters thick the mat also protects your work surface from extreme heat.
• (1) - Adjustable Temperature Glue Skillet
• (1) - 1 lb. Bag of Skillet Glue Pellets
• (1) - Teflon Stir Sticks - 2 Pack
• (1) - 19" x 19" Large Green Glue Mat
---
Share this Product