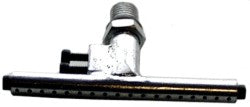 Wide T Carpet Nozzle
Regular price
$37.00
$0.00
Wide T Carpet Nozzle
This nozzle is 3" wide, or the screws that are in place can be removed and the longer screws that are in the middle can be removed and inserted on the sides to close off an additional 1" making it a 2" wide path.
These nozzles are for our professional line of hot melt glue guns. Nozzles fit our Heavy Duty Glue Guns (100 Watt or higher), Industrial Glue Guns, and Industrial Pneumatic Glue Guns. These nozzles do not fit our Medium Duty or Cordless glue guns.
Thread Size Information: The threads are 5/16-24 on the nozzle end (where the cap or extension nozzles fit). This is the same on the extension nozzles as the base of the extension is a cap nozzle. The portion that fits into the gun, as in the Nozzle Assembly, is a thread size of 7/16-20."
If you are unsure whether these nozzles will fit your glue gun, please contact us.
---
Share this Product