How to Choose the Best Glue Gun for the Right Projects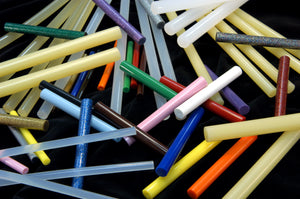 No. A glue gun is designed to accept and feed the correct size sticks only.  Do not put mini glue sticks in a the wrong size glue gun, or try to force them to work.  This will ultimately damage the glue gun, and the glue sticks will not feed properly. If you are not sure what glue sticks that you should use, refer to the model number normally printed on the handle of your glue gun.  Take a moment to research which sticks you should use, or give us a call and we will be happy to point you in...
---
With Autumn just around the corner, here's a simple way to spice up the classic pumpkin! You will need: - a pumpkin (real or fake) - some leaves (real or fake) - white spray paint - Dual Temperature Glue Gun - General Purpose Hot Melt Glue Sticks Directions: - First spray paint the pumpkin white. - Glue assorted leaves around the pumpkin. -  Super easy! Super simply way to spice up your Autumn decor!
---
Matting precious photographs is detailed work that you want to get right on the first try. One glue bubble or one mis-stick and your pictures are ruined forever. These mistakes can by avoided by following these simple steps. You'll Need: Photos Matting Tape Ultra Low Temp. Cool Shot Mini Glue Gun Low Stringing Cool Shot General Purpose Mini Glue Sticks Scrap Paper Frames Line your photo up to its matting so that the mount covers only a quarter inch of the picture on all sides. Make sure it's straight, then tape the photo gently to the matting on three sides to...
---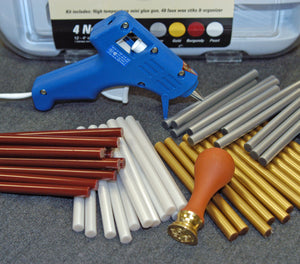 Getting a letter in the mail is always a highlight, especially since emails and social networking have overtaken the personal message market. When you're sending something special like a wedding invitation, a thank you card, or holiday cards,  it's easy to dress up the envelope even more by making your own wax seal. Traditional wax seals require melting wax over an open flame, which can be dangerous and messy. It also takes time, patience, and perfectionism. Create a beautiful wax seal in mere seconds with a hot melt glue gun, colored or glitter glue sticks. It's so simple and safe, you can...
---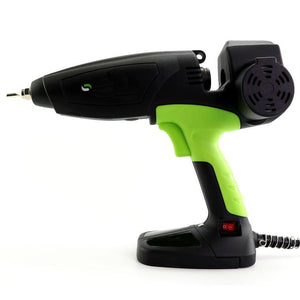 The Motorized Glue Guns deliver the power, speed, and control needed for all repetitive maximum output gluing applications. The powerful motor pushes the stick with ease. The continuous feed allows exact dispensing with low operator fatigue. The auto reverse feature prevents unwanted dripping of glue. NO COMPRESSED AIR REQUIRED Output & Performance A maximum no load pushing speed of 11-17 inches per minute improves your productivity. It also has a 5.5-11.6 lb/hour glue output depending on the model you choose. Click Here for More Information