How to Choose the Best Glue Gun for the Right Projects
Common hot melt glue stick sizes: Glue Stick Size Application Size comparison showing1/4", 1/2" and 5/8"General Purpose Glue Sticks 5/16" or 1/4" x 4" Mini Stick 1/4" Glue Guns 7/16" or 1/2" x 4" Standard 1/2" Glue GunsHousehold or Hobby Use 7/16" or 1/2" x 10" Standard 1/2" Glue GunsCommercial or High-Volume Use 5/8" x 10" Commercial and Industrial 5/8" Glue Guns Bulk Pellets, Pillows, or Chips Glue Pots and Commercial High Volume Applicators   Hot Melt Glue PelletsHot Melt Glue ChipsHot Melt Glue Pillows Hot melt adhesives are sold not only in stick form, but also in pellets, chips,...
---
When you think of hot melt glue, you think glue guns, glue sticks, crafting and minor fixes. But hot melt glue can be used in many ways you've probably never even thought of -- as a quick and secure alternative to professional and time-consuming repairs. Why spend a lot of money on small repair jobs around your home or buying new goods when in five minutes you can fix what's broken yourself? Use a small glue gun like the Light Duty Hot Glue Gun to fix a cracked picture frame. Sand any chipped or splintered exposed areas. Squeeze out a small amount of...
---
   Things you need: Ribbon Silk Flowers Long Nose Pliers Wire Cutter Floral Tape Dual Temperature Hot Glue Gun General Purpose Glue Sticks The first thing to do is create the bow for your floral swag.  The ribbon is burlap, which can melt easily with enough hot glue. Use enough hot glue to keep some points together. We suggest using your glue gun at a low temp to reduce any damage done on your ribbons. Depending on the material, some ribbons will hold up better to the hot glue than others. This swag design was influenced by country fields filled...
---
• Silicone • Silicone pad
These non stick glue gun pads protect your work surfaces from dripping glue. Glue peels off easily once it has cooled. Once you get one, you will wonder how you got by for so long without one! Makes cleanup a snap! These heat resistant non-stick glue gun pads protect your work surfaces from dripping glue. The non-stick silicone material withstands heat and allows dried glue to peel right off, once it has cooled. Protect and keep your work surface clean! Double-sided silicone pads Provide a non-stick, heat resistant surface for up to 400° F Easy to clean - allow glue to dry...
---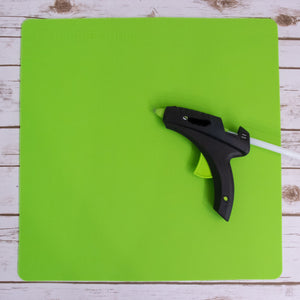 This large non-stick glue pad protects your work surfaces from dripping glue. Hot melt glue peels off easily once it has cooled. Once you get one, you will wonder how you got by for so long without one! Makes cleanup a snap!   NON-STICK GLUE PAD – CLICK HERE FOR MORE INFORMATION